FAQ Frequently Asked Questions
Questions are listed in the order in which they were asked and or answered not by importance or alphabetical order.
For FAQs on Complete Laptop Solutions visit www.diesellaptops.com
---
Yes, unfortunately, we even purchased a tangent certificate but some anti viruses seem to dislike PF-Diagnose and Malwarebytes dislikes PFLight. To keep the antivirus from deleting the program executables, please ad an exception for the program. If you do not know how to do that, try YouTube and search Add exception to (name of your antivirus)
or contact the support team for your anti virus.
So far we know that Malwarebytes and Bitdefender cause issues
A user with Administrator rights should install so contact your IT department
Install using the default paths

add a Diagnostics folder to the My Documents folder for each user

Go to C:\Program Files (x86)\Pocketfleet\PFDiagnose and change the security permissions for the PFDiagnose folder by giving users Full Control of just this folder

Do Not select the Run as Administrator option explained in the normal install, if you turn this on, an administrator password will be needed to run the program every time ;)
Make sure you have the latest Drive and Firma ware in your USB-Link 2, Nexiq is famous for putting out bad firmware then updating it to fix the problem and not saying a word. Recently they put out 2.2.xxx and it will not connect to OBD-II J1850VPW but then they released version 2.3.0.0 and it works just fine, connects every time.
so please make sure that you update the adapter drivers and firmware before submitting a request for support.
What About Regens? (EPA10 PIDs)
PF-Diagnose Version 6 can initiate "Parked" Regens on ANY J1939 or OBD-II vehicle that supports the SAE Standards. so that is Fuso after 2012, Hino after 2012, GMC after 2007, Ford after 2010... It cannot "FORCE" regen so if a parked regen command fails because of various reasons such as soot load too high or coolant temp too low, you will need the add-on hand held regen tool or OEM Software. Our add-on Hand held tool can regen all cummins engines, Detroit Diesel, and parked regen on Fuso. The same for EPA10 Emissions PIDs, PF-Diagnose lists the SAE recommended EPA10 PIDs but manufacturers are not obligated to use them and often do not.
We hope this helps you understand the Regen capabilities of PF-Diagnose, if you need Dealer level Diagnostics and tests, let us know, we have a few options available for you.
YES, PF-Diagnose will run under Windows 8 or Windows 10, As with Windows 7, you may need to run as administrator by right clicking on the icon, select Compatibility, then select RUN AS ADMINISTRATOR. This is because of the UAC protection since Windows Vista. (The version must be a full version of Windows not the Tablet N Versions) If you do not have a option to run as administrator, please google "Adding run as administration in windows 8" to correct the problem. If you have a subscription, email support and we can help you with this as well.
Here is a video that may help

The install folder is located in the C Drive under Program Files. Open C:\Program Files (x86)\Pocketfleet\PFDiagnose\
Here is a video that may help

You may have incorrect settings, follow the steps below and you should be able to connect, if not, send an email to support, include the make and model of vehicle, what adapter you are using, and include the session log PFDiagnoseSession.log found in the Documents folder under Diagnostics, the log should be sent after the failed connect.
CONNECTING TO A CLASS 8 TRUCK USING J1708 - DEARBORN DPA5 ADAPTER
First ensure the adapter drivers have been installed
Open PF-Diagnose and select the settings, No Boxes should be checked that are not checked in this example, Make sure the protocol is selected for the vehicle you are connecting to, for example: OBD-II will not connect to a 2012 Freightliner Class Class 8 Truck.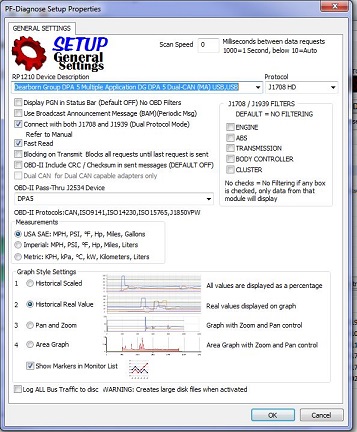 Save the settings, turn the ignition to the RUN position, do not start the vehicle, select CONNECT and if the protocol is correct, the data should appear. Keep in mind that a failed connect may not be a problem with PF-Diagnose, you could have a bad datalink in the vehicle, bad cables on your adapter, failed ECM, in OBD-II it could be a blown cigar lighter fuse.
Check the website for your adapter for updates and known issues. Check your adapter software for an adapter validation or test tool to test the adapter before contacting Pocketfleet support.
The following Adapters have been tested and passed:
Dearborn DPA-III, DPA4, DPA4+, DPA5, DeBridge

Nexiq WVL2, USB-LINK, USB-LINK2

Cummins Inline II, Inline 5, Inline 6

Drew Technologies TVIT, TVIT-II
Other adapter will work if they are RP1210 and/or J2534 Compliant, We just have not tested them yet, if a manufacturer wishes us to test their adapter, please email us and we will be happy to test your device with our software.
If you want to connect to Heavy Duty or Industrial only:
You need the Full HD Only edition of PF-Diagnose and an adapter with RP1210, We sell the DPA4+ with our HD only kit because it is less expensive and is fully RP1210 compliant. It comes with the 6 and 9 PIN cables used on most highway trucks, a USB cable, case and driver CD. It does not connect to OBD-II.
If you want to connect to Heavy Duty, Industrial and Medium or light duty such as GMC or Ford:
You need our Full HD with OBD-II and the DPA5 Adapter Kit. You will get all of the cables above but you will also need the J1962 (OBD-II) cable for the DPA5 to connect to OBD-II. This kit supports all OBD-II protocols except Ford before 2008, for that you will need the VSI-2534 adapter because it supports J1850PWM where the DPA5 does not. If you purchase both adapters, do not purchase the J1962(OBD-II) cable because it is included in the VSI-2534 Kit.
If you want to connect to Light Duty Only:
PF-Diagnose is for Heavy Duty, you would be better off with a Light Duty application, The VSI-2534 Adapter comes with a free Basic OBD-II application for light duty Automotive so all you need is the VSI-2534 Kit.
Mode 6 tests can assist in diagnosing the problem, Fault codes or DTCs can be generated as the result of another problem.
For example, a Ford F250 5.4 Gas engine comes in with a bad misfire, smell of raw fuel out the exhaust and a DTC for Cyl 5 Misfire. What would you do?
You may replace the plug or injector in cyl 5 but would that solve the problem? Here is a real example of such a case.
Initial scan with PF-Diagnose

So now we run a Mode 6 Misfire test on all cylinders.
Cyl. 5 shows a misfire

But look at # 7, 1600 misfires... only 66 on # 5

Now look at the other tests

and the raw fuel smell... A bad plug will allow a small amount of fuel into the exhaust but not this much
so we figure it is a bad injector or injectors. My next step was to pull the injectors all out leaving them connected to the fuel rail, then turn on the key... Number 7 sprayed fuel and all the rest remained dry so Injector 7 is defective, I replaced the injector, took the vehicle for a good road test to clear the exhaust and cleared the codes. The Injector was $40 and it took about 1.5 hours to run the tests, change the injector, check the oil level to ensure the oil is not diluted, and road test.
Had I went ahead and changed the plug, possibly the COP and injector in cyl. 5, I would have spent over $100 and be scratching my head because the problem would still be there.
Why did the ECM report Cyl. 5? In a case where there is a severe misfire, it is possible for the ECM in the Ford 5.4 to miscalculate which cylinder is misfiring but mode 6 tests are much more accurate. Hopefully this vehicle did not suffer permanent catalyst damage. I will recommend an oil change to finish the job
There are may more examples of using Mode 6 to pinpoint the problem, we are not in the teaching business but you can find many samples on the internet.
There is a flaw in the Nexiq USB-Link driver installer that causes any J1534 compliant software to look in the "WINDOWS" folder for the dll files, if your windows folder is called WinXP, Win7, WINNT or any other name, PF-Diagnose is fine but the Nexiq driver will fail to load. This is known by Nexiq and is to be corrected in the latest driver install, I recommend you install the latest Nexiq drivers or .contact Nexiq. This is a Nexiq problem. Pocketfleet is not a Nexiq Distributor. if you have one of our approved adapters by DG Technologies, you will not have this issue.
PF-Diagnose connects to hundreds of truck systems, from John Deere to Freightliner to Ford, this software supports J1587, J1708, J1939, ISO15765 CAN, ISO14230, ISO8141, J1850VPW, J1850PWM. If your vehicle's diagnostic protocol is one of these, you will connect. We have tested several dozen common systems, but have not compiled a list. As of this version, you can connect to any North American Heavy Diesel, John Deere, Isuzu after 2007MY, Hino for Live PIDs only, GMC Duramax, Ford, Chrysler, Toyota, Nissan, and many more. We will be developing a tester program for free that will tell you if PF-Diagnose will connect and at what level, as for now you can ask support if your vehicle has been tested. To check OBD-II vehicles, download the J2534 tester, if it connects OK, PF-Diagnose will also connect OK. Keep in mind that the drivers have to be properly installed and the proper cables used or your connection will fail, even though PF-Diagnose will support the vehicle.

Yes, We have tested PF-Diagnose on John Deere and it has been used by customers for JD Farm Tractors such as the 6320 Loader, Aux John Deere engines in Wood Chippers and Vactor Trucks, all the way up to John Deere Excavators.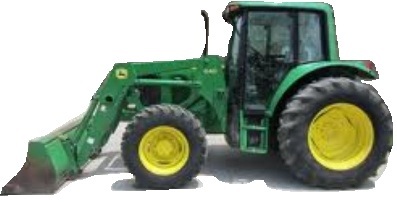 John Deere 6320 Farm Loader
CLICK IMAGE FOR ACTUAL SIZE
Known Issues: Throttle may be disabled while connected if too many PIDs are requested.
Drive Cycles are a warm up sequence that the vehicle must complete to allow conditions for all of the onboard tests. When codes are cleared, so are diagnostic results, this means that if you are going for an emissions test and you have a fault code, if you clear the code just before the test, there will be not only a Distance since DTC Cleared setting, but your vehicle will not have ran through several drive cycles which are required and your vehicle will fail by default.
PF-Diagnose Full HD or Full HD with OBD-II comes with 1 year free support and updates, this is 1 year from the purchase date not the date you installed or last upgraded. To obtain priority support, Send us an email, we do not accept phone calls, we provide email and web support only. Your email will be responded to in a couple of hours typically.
If you purchased your software over one year ago, and you did not purchase a support and updates subscription, you will need a support ticket to get support.
We can no longer make exceptions, it is not fair to the support staff or to the customers that subscribe to our support and updates program. Subscribing members get priority service.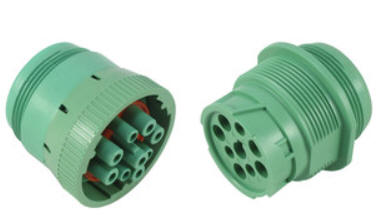 The Type II Deutsch 9 PIN replaces the old TYPE I Deutsch 9 PIN and is used in 2013 + Trucks. It will fit on previous TYPE I trucks but will only work in J1939, there is no J1708 in the new cable
The type II cable can be identified by a GREEN end, See a Male and Female connector above
If you force a TYPE I cable on a TYPE II Truck you may damage the truck receptacle, the cable, or both. Also if you try to connect J1708 you will cause repeated ECM reboots and may damage the ECM so take care to turn off J1708 in PF-Diagnose when using this cable.
The DPA5 adapters we sell do not come with this cable at this time, It is $139 to add this cable however it also supports OBD-II so you can get this cable instead of the DPA5 OBD-II Cable and save.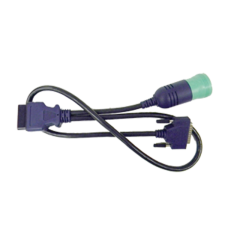 ---
If it has a 6 PIN, it is J1708
If it has a 9 PIN it is J1708 or J1939 or Both
If it has a TYPE-II 9 PIN it is J1939
If it has an OBD-II 16 PIN
If you live within the United States, all 1996 and newer passenger cars, light-duty trucks, and medium-duty vehicles are required to support OBD II diagnostics.
The "Fully Supported Years" column means that 100% of the vehicles sold in that country conform to OBD II or EOBD starting in the year listed.
The "Incompletely Supported Years" column means that some vehicles within that country will work, and some will not. If your vehicle lies in the incompletely supported years range, the OBD II Connector Pinout below can help determine if your vehicle will work with the DPA5.
Country Where You Live Fully Supported Years Incompletely Supported Years

United States (gas) 1996 and newer 1994 and 1995

United States (diesel) 2004 and newer 1996 to 2003

United States

(Heavy-Duty vehicles with

GVRW exceeding 14000 pounds) 1996 and newer

Canada (gas) 1998 and newer 1996 and 1997

Europe and UK (gas/petrol) 2000/01 and newer 1996 to 1999

Europe and UK (diesel) 2003/04 and newer 1996 to 2002

All Other Countries 1996 and newer
<![if !vml]>

<![endif]>
If pins 5, 6, 14 and 16 are populated, the vehicle supports CAN ISO15765
If pins 5, 7, 16 and, optionally, 15 are populated, the vehicle supports ISO9141 or KWP ISO14230
If pins 2, 5 and 16 are populated, the vehicle supports J1850VPW
If pins 2, 5, 10 and 16 are populated, the vehicle supports J1850PWM
Note: PF-Diagnose supports OBD-II, These protocols do not guarantee that the vehicle is OBD-II, Example, Ford Power Stroke MY 2000 is J1850 PWM but not OBD-II so PF-Duagnose will connect but not work on this engine.
Before connecting, select the engine make and model if known, this will ensure that the proper code descriptions are displayed.

In Windows 7 & 8 the default display setting is 125% This causes some graphic items to be distorted as shown in the photo below.

To resolve this, set the display to 100%
Select Options, Personalization, Display and select 100% as the magnification

Now the graphic item is the correct size...

In previous versions, You had default PIDs and Selected PIDs, once a PID was selected in J1939 or J1708, the request for that PID was repeated when not necessary. The new ewlwase has addressed that and now when in J1708 or J1939 mode (Heavy Duty) The PID you select will be requested and then the checkmark will disappear. There is no need to keep the checkmark as once the PID is requested, it will stream until the key is cycled. Constant requesting causes excessive traffic on the datalink and slows down responses and causes buffer full errors. In OBD-II the PID request must remain checked because the data is not streamed, one Request = one response. Therefore in OBD-II Mode, the checkmarks will not disappear.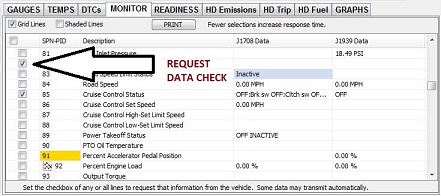 This is true for all tabs. If the checkmark in J1708 or J1939 remains, deselect it manually as it will improve performance. You may select and deselect ALL PIDs by selecting the checkbox in the first column header next to the words SPN-PID/p
Can I install the new Version and still keep The old one?
No, When you upgrade, you must uninstall the previous version or you are violating the license agreement. Your license is valid for upgrades so all you need to do is install the upgrade, the license you already installed will be read by the update.
---
Copyright (C) 2011 - 2015 Pocketfleet Diagnostic Solutions ALL RIGHTS RESERVED The contents of this page are Not to be reproduced
FAQ suggestions are to attempt to assist you with a listed issue, Following the resolutions or answers is at your own risk, Pocketfleet Diagnostic Solutions and any principals, resellers, employees or shareholders, here-on referred to as Pocketfleet, do not assume any risk and provide no warranty direct or indirectly inferred or implied in any way. Before following any suggestions or answers, you must agree to exempt Pocketfleet from any liability whatsoever. If you do not agree, do not follow any answers or suggestions herein and do not continue to use PF-Diagnose as per the end user license agreement.
I Get an HKEY_CLASSES_ROOT\AroExch.Document.11 ERROR What Now?
Recent Changes to Adobe Acrobat XI causes all kinds of issues when installing other software.
If you have Adobe Acrobat 11, and get an error HKEY_CLASSES_ROOT\AcroExch.Document.11 Access denied and the install reverses itself, Uninstall Adobe Acrobat 11, Install PF-Diagnose, then reinstall Adobe Acrobat Reader XI or install Version 9 from your PF-Diagnose CD.
Acrobat Reader Version 9 has no issues with other software.
The Internet is flooded with the problems related to Adobe Acrobat Reader XI, but until they fix it, this is the only solution.

It should not have any effect on other installers, but it does…

There are some long-winded explanations as to why and what Adobe did incorrectly all over the internet, but the short version is they are trying to take control of any document files and it sees the manuals that PF-Diagnose is installing and tries to lock them and this makes the installer fail.
What does the error "Invalid Client ID" Mean?
Invalid Client ID
This is a J1939 Response, it means that the program is trying to
connect using J1939 but cannot negotiate a client ID, in other words,
There is no
J1939 to connect to.
Probable Cause from most to least common:
Trying to connect using J1939 when the vehicle does not support J1939 - Try another protocol, J1708 or OBD-II

Dual protocol mode on but vehicle only supports J1708 - Uncheck Use

Both Protocols in setup

Vehicle has defect on J1939 Data Bus - Repair data bus and retry

Adapter or Diagnostic cable defective - Test adapter and cable on

another vehicle or try adapter tester program, see adapter

documentation

Ignition switch in vehicle is turned off - Turn ignition on. Try again

.

PF-Diagnose Cannot communicate with the adapter - Check USB Cable, Make sure adapter is plugged in at both ends, check adapter manual to

diagnose

Adapter drivers were recently upgraded but not the adapter Firmware - When you update drivers, also update firmware - See adapter manual
If you have adapter issues, we can assist in testing your adapter
only if you have a Nexiq USB-Link, Dearborn DPA4, 4+ or 5, Movimento
Puma or Nav-Link/Nav-CoM For other adapters, refer to the adapter
manual or contact the adapter manufacturer for support.
An Invalid Client ID means that the protocol connection sent an invalid ID back to your adapter or client.
Or in other words you did not connect to that protocol.
Possible Causes of Invalid Client ID:
<![if !supportLists]> 1. <![endif]> You selected Use both J1939 and J1708 on a vehicle that only has one of these protocols – Uncheck the Use both Protocols box and only use J1708 or J1939 whichever applies
<![if !supportLists]> 2. <![endif]> You are trying to connect to an OBD-II Vehicle with a Heavy Duty Protocol not OBD-II – Change Protocols in setup t OBD-II
<![if !supportLists]> 3. <![endif]> There is a problem with the datalink in the vehicle and one of the HD protocols cannot connect – Repair the truck
<![if !supportLists]> 4. <![endif]> The notice is intermittent – High Traffic on Bus – May be a lot of DTCs – Ignore it or request fewer SPNs – Clear inactive codes after printing them
PF-Diagnose can change parameters on International DT Series Engines Only and only with the DPA5 Adapter so far. We are looking at adding adapter support for more adapters and support for more engines. (Jan 2015)
Why is there no link to download the latest version, a trial version or upgrade?
Software updates are only available to customers. Trial versions are too easy for hackers to bypass, Upgrades are only available to qualified customers. For these reasons, there are no download links published on this site.
When I connect to a 2014 or newer Cascadia or Volvo I get no engine codes?
2014 and newer Freightliner Cascadia and Volvo/Mack trucks use different channels. For Volvo / Mack use the OBD-II connector and select Channel 2 or use a crossover cable. For Cascadia, use the 9 PIN connector and select Channel 2 to read engine codes. Be sure to use PF-Diagnose version 2.2.1.181 or later, if you need an update, please contact support.

All or some of the codes say Unknown, Why?
PF-Diagnose tries to know what vehicle you have, and what components so it can look up the codes in the many database tables. For example, you may have an International Truck with a Cummins Engine. It does this by asking the Modules what make they are and by the VIN Number. Sometimes this data is not present or PF-Diagnose does not have the VIN Prefix in the database. You can override this by manually selecting the make and model through the drop-down lists. For example, we connected to a truck, PF-Diagnose detected that it was an International Engine but could not figure out what manufacturer the body was so we got codes like this

By selecting International in the body make drop-down, we are telling PF-Diagnose what make the body is, International in this case.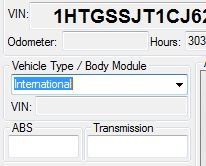 Now PF-Diagnose knows to look for the codes in the International Body Controller table and the result is this
If you still have Fault Code Not Found, email us with the Make, Model, and Fault Code so we can look it up for you and include the code in the next update. In some cases the codes are proprietary and we may not have the description however this is rare. You can also Google the code or use DTC Solutions to look it up.
Will PF-Diagnose connect to Isuzu?
Yes, Below is a chart showing which models and starting year that PF-Diagnose can connect to. If your Isuzu is not in the list, you will need a special Tablet or OEM Software to connect
| | | | |
| --- | --- | --- | --- |
| Model | Engine | Year (starting from) | OBD-2 Protocol |
| Isuzu D-max | 2.5 TD, Diesel (136HP) | 2007 | CAN 11bit (500kb) |
| Isuzu KB250 | 2500, Diesel (112HP) | 2011 | CAN 11bit (500kb) |
| Isuzu NPR | (24V version), Diesel (148 HP) | 2008 | CAN |
| Isuzu Trooper | All | 1998 | VPW J1850 |
What if my PC Crashes or I buy a newer Laptop, can I transfer the License?
Yes, You will need an Internet Connection, and a Support and Updates Subscription. Contact Support and they will provide directions on how to deactivate the license on the current PC and reactivate on the New PC.
What Protocols will PF-Diagnose connect to?
PF-Diagnose will connect using J1587, J1708, J1939 and OBD-II (See below)
If your adapter supports dual Protocols, You can select Use Both J1708 and J1939 to use both at the same time, the main protocol used for graphs and gauges will be the protocol you selected in setup. So if you select J1939, and use both protocols but the vehicle only has J1708, You will see Invalid Client ID messages and the Gauges and Graph will not work, everything else will be fine. In this case you need to disconnect and change the protocol to J1708 then everything will work fine. The same holds true if the vehicle is J1939 only...
OBD-II Below are the OBD-II Protocols, If you have the OBD-II edition of PF-Diagnose, all of the OBD-II protocols below are supported, your adapter may support all, or only some of these protocols.
I get an active Code 253 or 254 but I can't find any info on that code...
Some DMs (Diagnostic Messages ) are used for the sole purpose of activating or deactivating the dash lamps, In one build of PF-Diagnose the break was in the wrong location and these messages made it to the DTC screen, If you get SPN 253 or SPN 254 Active and the light on the dash of your truck is not RED, this is the reason. Please update your version.
Copyright (C) 2011 - 2015 Pocketfleet Diagnostic Solutions ALL RIGHTS RESERVED The contents of this page are Not to be reproduced