PF-Diagnose Version 7
J1587 / J1708 / CAN J1939 / ISO15765 / ISO1941 / ISO14230 K Line / J1850PWM / J1850VPW
Diagnostic Software for almost any vehicle on the road in North America today and wide coverage in Australia. PF-Diagnose will connect to more types of equipment than any other truck diagnostic software. Any vehicle or equipment with an electronically controlled engine requires diagnostic software to troubleshoot. PF-Diagnose will allow you to read and erase fault codes, read and chart live sensors and actuators, perform supported tests, print various reports and more. Check the Products page for a full description of our software. You can connect to ABS, Cluster, Body Modules, Engine, Transmission, Cars, Trucks, Industrial, Agricultural and Marine, Cummins, Cat, Mercedes, Isuzu, Iveco, Paccar, Volvo, Mack, Freightliner, John Deere, Case, Ford, Dodge, GM, Kobelco, 2014 Fuso, 2012 Hino and many many more!
NOTE: Not all proprietary SPNs or PIDs are available. Manufactures may not always use SAE assigned PIDs or SPNs even for common items
TechManualRepo! Manuals Library available to PF-Diagnose customers FREE! For a limited time!
Sort and find Manuals easily with TechManualRepo! Easily locate the manual you need out of thousands of manuals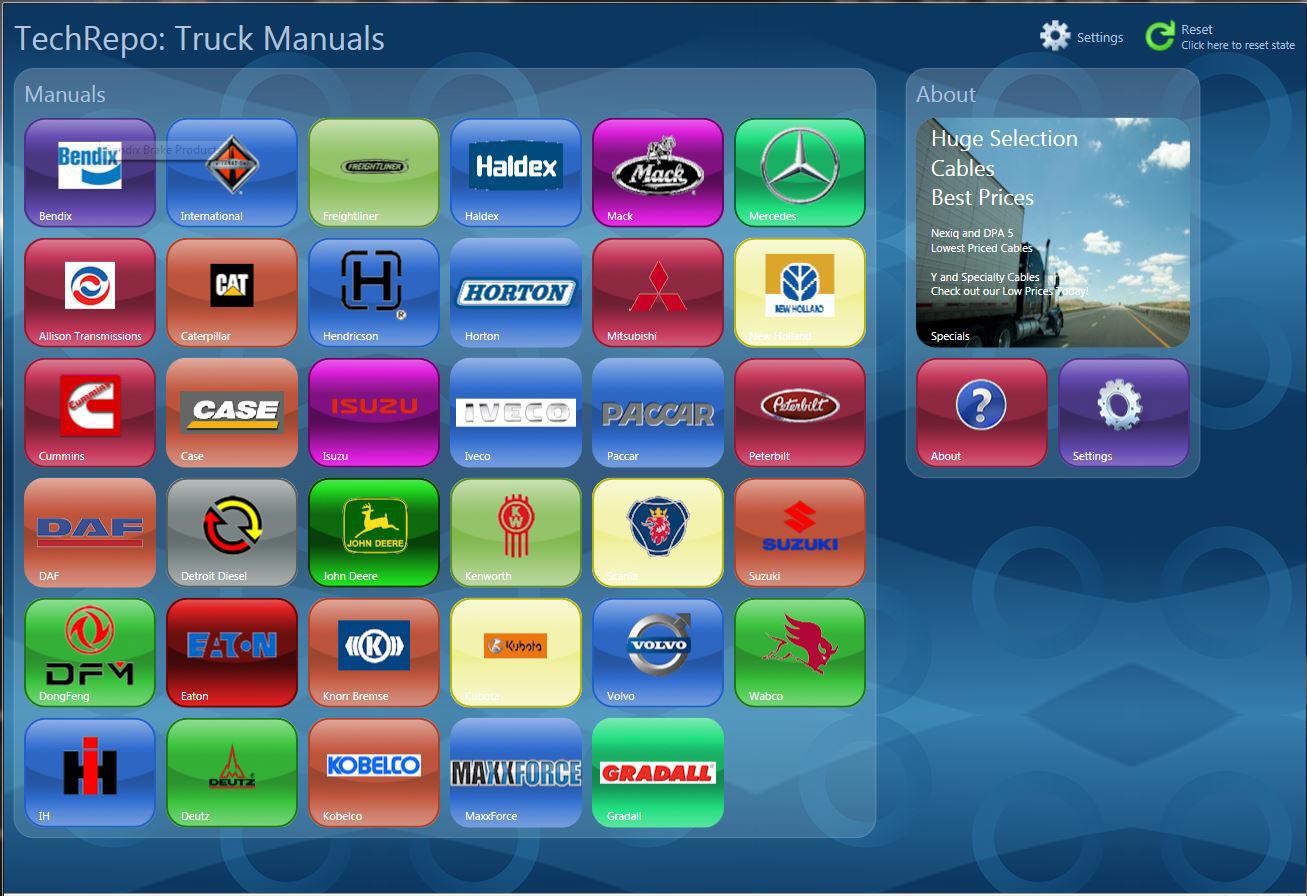 Now Available for download FREE to our customers on our Forum!
Customize to show only the categories you need! No need to keep manuals that you will never use that are just taking up valuable space!
Latest Testimonials
Dale in Australia. Sept 29, 2017
"Got the chance to check out a Hino truck that had fault issues today.
2012 Hino FM 2632 (Auto) or FM1A, part of the bigger end of the Hino 500 family it seems to be. 26000 kg GVM. A09C engine – 320hp
Check engine light came on yesterday but went out this morning. Truck drove fine still, no fault codes showed on dash readout at all at anytime. When they checked it said No Faults.
So i headed out today and plugged in with my LED protocol/breakout box to check what pins were active to confirm how it was wired before i plugged the DPA5 in.
I did a 2010 or 2011 similar truck and it wasn't wired correctly so I still always use the LED protocol box. I love how useful the LED boxes are and they save burning communication adapters out.
So it was wired OBD- Can all normal power, earths etc so I connected with PF-D and DPA 5 and connected straight in and could read faults and live data.
I also tried the XXXXXXXXXXX but it was less successful, very slow to communicate with this truck and didn't show much other than the codes and ECM details.
But yet again I was amazed at how the PF-Diagnose worked and allowed me to read this truck.
So if the faults occur again I will know what they will likely be, and i know I can read the truck if requested.
Cheers,
Dale
Australia
"
Adion Russell wrote: - Sept 3, 2016
I connected to a German Tractor the other day with a Deutz engine, PF-Diagnose is the best generic heavy duty scan tool hands down! If it can't get into a module, nothing else will! I have had Cummins ECMs that were going bad and Insite would not connect but PF-Diagnose got in with one shot! ...I had a CAT 3406e that several other guys checked, all said the ECM was bad... one of the 1708 lines was corroded so cat ET wouldn't go in and guess what! PF-Diagnose went in on just the one data line... Great tool I even used it to troubleshoot an Iveco truck! Thanks Pocketfleet! PF-Diagnose was the first software I bought when I was transitioning from car diagnostics several years ago and it has never failed to connect!
mastertek17 - Pocketfleet Forum - March 3, 2016
I can tell you this. Having PF Diagnose has been a money maker with diagnostics in my business. Emergency Road Service. This has gotten me out of more jams than you can believe. Guaranteed help from support is only an Email away and it's quick and I mean quick. What other company out there will remote into your machine if and when there might be problems. No one that I know of "EXCEPT"
PF Diagnose. I know the Forced Regen additions in the future will just add more frosting on the cake.
Quality goes in before the name goes on. You think the OEM's would perform this type of service... No. All the others are glass and glitter. I commend the Admin for a well produced product with no comparison to the others. I have researched a lot of them.
Talking to a lot of other shops on what they have and use along with the price structure for support and renewals is eye opening.
Feb 15, 2016 - I was surprised when it worked on a new Fuso, I was able to pull codes, repair and erase codes and force a regen.
See more comments below...
Now supports the PI-GM 8.0L V8 LPG PIthon Engines
*License Does Not Expire!
* If support determines that your license needs to be reissued to the same PC, there is no cost as long as you have a support subscription. Without a support subscription, or changing the license to another PC, an administrative charge may apply. All software sales includes a one year free support and updates from the date of sale. License can only be applied to one PC. A second PC requires a second license. 1 Support subscription covers all licenses at your location as per support subscription terms.
DON'T BE FOOLED BY HACKED OR PIRATED COPIES
Hacked or Pirated copies have no support, no Updates, are older versions and often fail after a few months. The genuine legal versions here come with full support and updates for 1 year and the option to continue support and updates, quite often for about the same price as some pirated copies.

A few of the many comments from our customers:
Jan 27, 2016 - Customer from Australia
"I use it all the time and it amazes me what feature it has, even when compared to my OEM programs, and sometimes it connects when the OEM programs wont. Great work .
"
Aug 30, 2015:
"Also tried your program on a Deere 953K buncher, 748H skidder. 2154D processor. Can test and read about 90% of what I could do with JD service advisor." Richy B. Contracting. Alberta Canada.
"The John Deere 7800 was away, so I had a 6430 to check on PTO calibration error. Communication Excellent! Error code reported spot on! Well done! Very grateful and excited!" Leon van Wykn
" I am very happy with PF diagnostics so far, has not let me down once since I had it installed on the new Laptop with XP, works like a charm every single time, it has gotten me out of a few bad jams on the side of Interstate 84 in the middle of the night :) " Vanguard Logistics
"Also tried your program on a Deere 953K buncher, 748H skidder. 2154D processor. Can test and read about 90% of what I could do with JD service advisor." Richy B. Contracting. Alberta Canada.
"We tried connecting to a Kobelco SK260 with 2 different and very expensive HD Scanners ( $6000.00 US + each ) and were unable to connect, then we tried PF-Diagnose with a DPA5 adapter and connected right away! Impressive!" Tyler
"G'day to all. I run an on-site/ mobile service and repair business down here in Australia, fixing everything from cars and small engines to earthmoving and mining equipment and of course heavy vehicles. Have been using PF Diagnose now for a couple of years. Great product with even better support! Have had good success on everything from LV to HD and earthmoving. Such an easy program to use with great features. Makes diagnosing breakdowns in the middle of the night a whole lot quicker! It may not have the features the OEM software does, but as a pure diagnostic tool that covers a really broad range of equipment, it really punches above its weight. Keep up the great work!" A K Diesel Australia
---
GET FREE OEM SOFTWARE when you join our customer's Forum
email support and provide a desired login and we will set up your account within hours.
GAUGES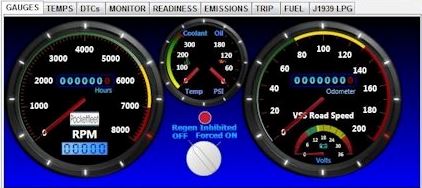 View common sensor live readings on colorful animated gauges
FAULTS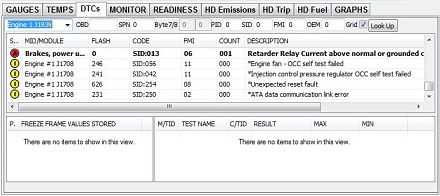 Double click on a code to bring up troubleshooting and repair steps where supported.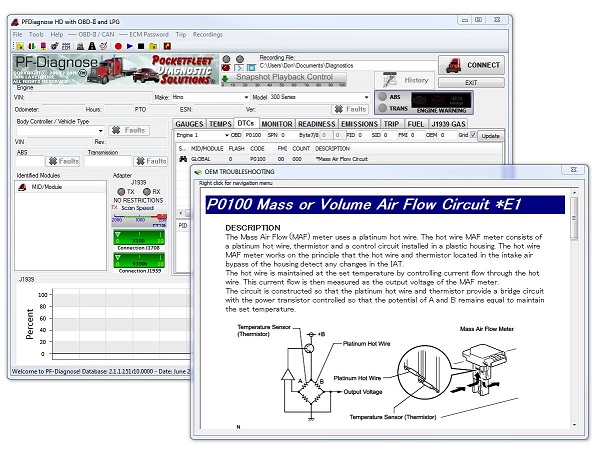 Read and Erase Fault Codes, Get OEM Descriptions, Counts, and Code Numbers from any module including Engine, ABS, Transmission, Instrument cluster and Body Controller to name a few.
GRAPHS

Chart PIDs on live graphs, Up to 6 PIDs can be selected to enable advanced diagnostics. See what is happening in real time when a fault occurs. Record the graph and play it back, Zoom in and out to observe changes in related sensors.
MULTI-PROTOCOL
PF-Diagnose supports a wide variety of Heavy Duty and OBD-II Protocols without expensive add-on options. HD : J1587/J1708/J1939 9600,250k,500k,1m Bus Speeds
OBD-II: CAN / ISO9141 / ISO14230/ ISO15765 / J1850VPW / J1850PWM

Adapter speed control, Displays Filter status, Connection Speed, Protocol, Send / Receive, and displays adapter image on supported adapters. Now with change adapter button.
---
Support Forum
In late 2012 we started a support forum and we invite customers to join. As a customer you will have access to various forum topics such as Industry News, All of the major engine and brake system forums, Manuals and Download areas, Adapter forums and much more. You can ask questions, answer questions and find solutions. There is no membership fee, Your level of access is based on your support status and software version. If you already have PF-Diagnose and wish to join the forum, please email support today.
Support Tickets
We have an extensive FAQ (Frequently Asked Questions) page, and a Training page to assist all customers with issues they may have. Pocketfleet comes with 1 year free priority support and upgrades, after 1 year, if you do not have a support and updates subscription, please open a support ticket by clicking the button below.

---
PLEASE CALL AGAIN!
---